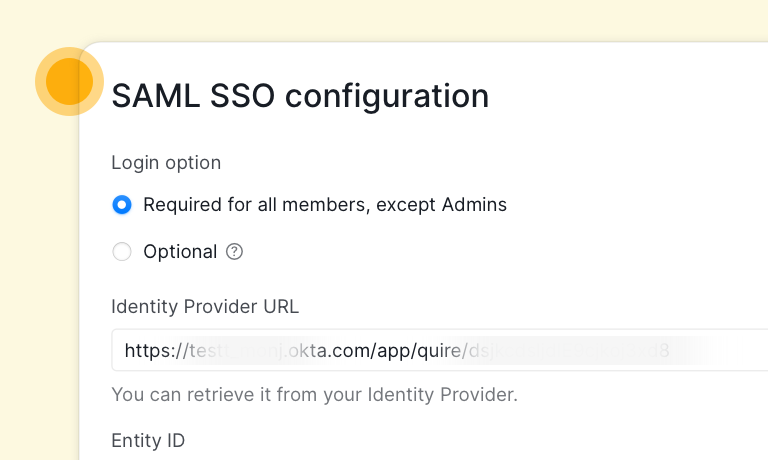 We've all been there: having to remember too many passwords. Is there a mechanism that allows you to have only one set of credentials and use it to access any application that you need? Good news, yes, there's a type of authentication called Single Sign-on (SSO) that has been increasingly popular and become the solution for internet security.
Why Should Your Organization Need SSO?
One of the most significant benefits of SSO is that it reduces the number of passwords that users have to remember. It eliminates the need for users to keep track of multiple usernames and passwords for different applications, making it more convenient and secure.
Also, SSO enables its users to securely authenticate by logging in with only one set of credentials. With SSO, Quire users will be logging in to Quire with a trusted SSO provider (Identity Provider) to verify the credentials of the users. Once the credential is authenticated, the user does not need to re-enter his credentials for subsequent applications.
Another advantage of SSO is that it improves security. With SSO, users only need to authenticate once to access multiple applications. This reduces the risk of password fatigue, where users tend to use the same password for multiple applications, making it easier for hackers to gain access to sensitive information.
Single Sign-On is exclusively made for Enterprise subscription plan. More information can be found on our Pricing page.
What Do You Need to Enable SSO for Quire?
If you want to enable the SSO for your Quire organization, you have to make sure that you are the Organization Admin first. In the Organization Settings, you can choose to enable the SSO for all of the members or keep an option for them to use the passwords that they've set for Quire.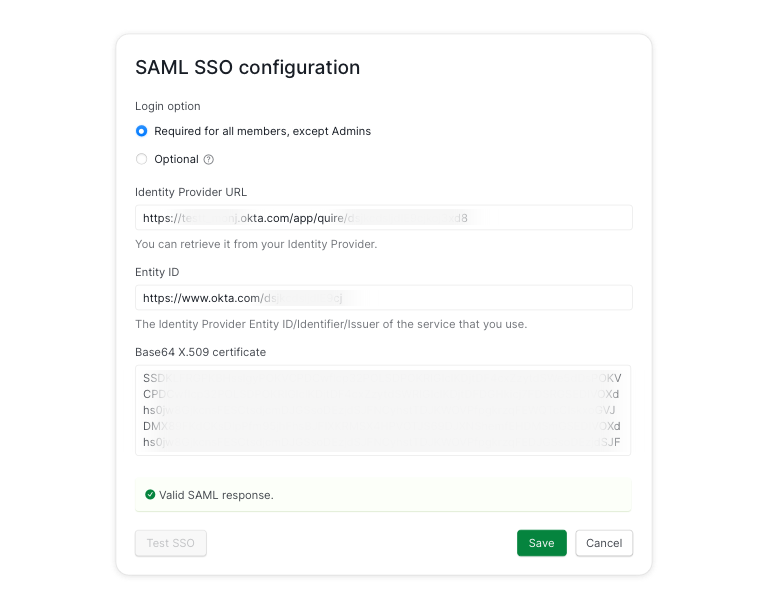 If you are the Organization Admin, you will always login to Quire using passwords instead of SSO.
After successfully configuring the Identity Provider (IdP) by following the steps, you can start using SSO. You can always disable the SSO option at any time if needed.
We recommend you should test different use cases and ask the organization users to test immediately after the SSO is enabled for your Quire organization. If your applications are open to consumers who can register with their emails and social IDs, we also support Microsoft AD B2C.
If you need help choosing the trusted Identity Provider, we recommend some popular ones such as Okta, Google, or Microsoft Azure Active Directory.
For a detailed guide on how to enable SSO for your organization, please visit our guide.
As SSO is becoming increasingly popular, and many organizations are adopting it to improve productivity and security, we hope using SSO with your Quire organization can simplify the login process and at the same time, add another security layer to your account.