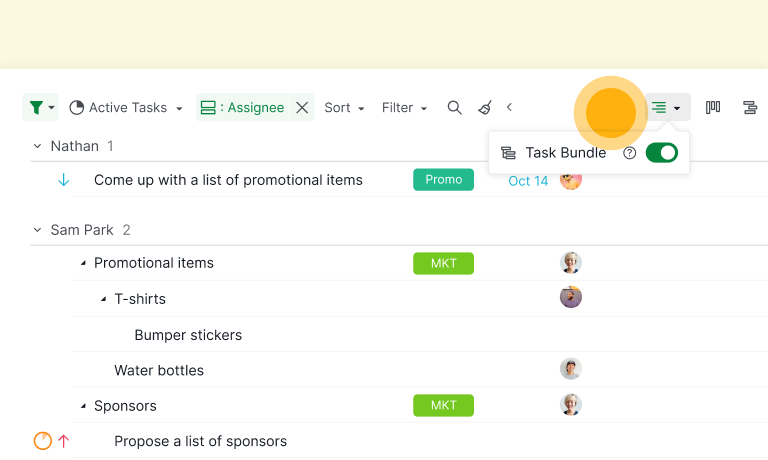 Talking about Quire means talking about the concept of hierarchical views. The nested task list might be the beginning of everything for Quire, however, we're now expanding the "nested concept" to many other views in Quire.
In case you don't know, Quire supports nested Kanban Board. You can learn more in this blog post.
Task Bundle in Nested Task List and Timeline Views
You might wonder here: what does it mean? Isn't the nested concept already included in the List and Timeline views?
Well, it's true if you're having a "flat" list with no grouping or sorting option. The parent tasks and subtasks were separated when you grouped or sorted them by different criteria. However, in the latest update, the subtasks can remain with their parent tasks regardless of the sorting or grouping.
All you have to do is to enable the Task Bundle option after grouping or sorting your list. Now you don't have to go look for your subtasks anymore, how great is that?
To learn more about task bundle in List and Timeline views, you can visit our guide for more information.
Task Bundle for Nested List and Timeline View is exclusively made for Professional and higher subscription plans. More information can be found on our Pricing page.
Sections and Task Hierarchy in the Sorted View
Just last month when Quire released Section and received a lot of positive feedback from our Quireans. You might notice the sections were detached from their tasks if you choose to sort your task list.
With the latest updates in Quire, your task list's hierarchy will remain within sections if grouped or sorted. Now you can continue your work and see everything in perspective.
In Timeline view, the sections also remain attached to the tasks when sorted or grouped.
Why is the Nested Concept that Important?
You might ask, why did we go the extra mile just to enhance a simple concept? From the beginning, we're persuaded and put our trust in the nested concept. We don't believe in a flat laundry list. Quire is built around the idea of every task in your list should be related and you'll get a better big picture of your goal if your tasks are logically linked.
Preserving the task hierarchy under any circumstances is important since the original hierarchy of your task list has a meaning and should be retained at any time. Instead of taking the subtasks away from their precedents, we try to keep you the original hierarchy so you always know the relationships among all the tasks.
The best thing about Task Bundle and Nested Concept in Quire, you may ask, is the flexibility. Of course, if you believe in task hierarchy like us, you can toggle on the task bundle option. However, if you think of each task as an independent property, just toggle off and continue the flat layout of your projects. Whatever works better for you, you're always in control of your task list.
That's all for today's blog! If you'd like to learn more in detail about the latest updates that we've made in Quire, you can join our Webinar that will be held at the end of this month! You can click here to register a spot!