Panorama view
The Panorama view is only available in the Professional, Premium, Enterprise plans. More information can be found on our Pricing page.
Panorama view allows you to view all the tasks across all projects in the organization. Select the organization at the sidebar, then click the List tab to access the Panorama view.
In this view, you can make good use of the [filter bar(/guide/filter-sort/) to view the specific tasks that you would like to see. For example, you can group the tasks by date and by assignees to view the tasks that you need to focus on for today and the tasks that your team members have to do in the upcoming days.

Track your organization's progress
You can see the Organization's progress statistics and the summary of each Project in the Organization. There are charts, percentages, and indicators to give you a comprehensive report of your Organization.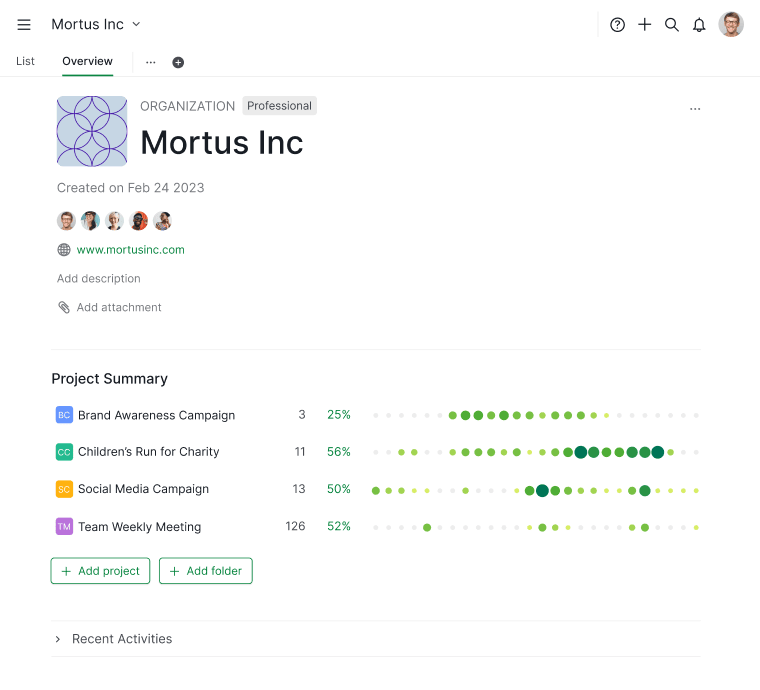 Click on the organization at the sidebar to access the organization overview.

Or click on the dropdown menu icon beside your project's name, and select Go to Organization.

Organization activity log
You can see all of the changes that have recently been made in your Organization.
Click on the Recent Activities at the bottom of the organization Overview page.
If you click on the task or project name, Quire will automatically redirect you to the destination page.