My Tasks is a default task view in Quire. You will see all tasks you should care about from all projects and organizations listed in My Tasks.
Tip: If you don't like the order of the sections at the sidebar, you can change the order by dragging and dropping them.
Note: My Tasks is only available in the Tree view, Timeline view and the Calendar view.
Which tasks will be included in My Tasks?
Tasks in My Tasks can belong to a specific project or just be personal tasks without being assigned to a project.
The default view for My Tasks is sorted by date. You can sort My Tasks with two options, first by date, then by project, or the other way around.
Tasks created by me, not assigned to others, with start or due date
Task assigned to me
Personal tasks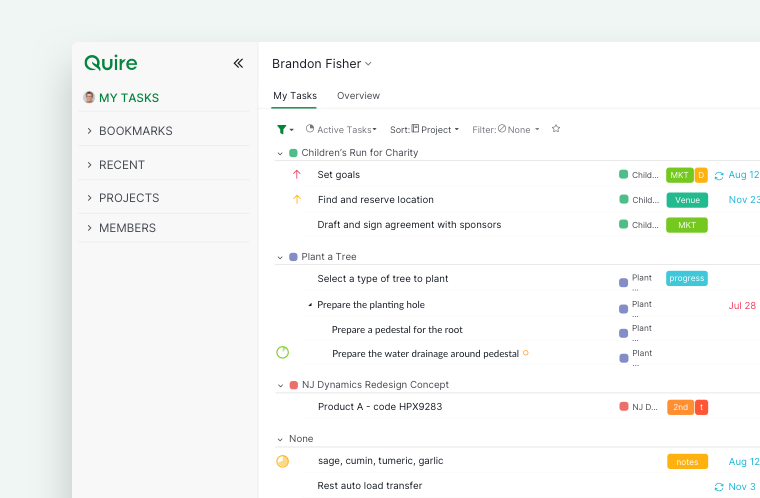 Personal Tasks
A personal task is a task that doesn't belong to any project. Rather, it belongs to someone's My Tasks.
A private task can have subtasks and all subtasks are private. If a project is archived or removed, all of its tasks won't be part of the My Tasks of any user.
You cannot assign your personal tasks to other users. You can only select yourself as the assignee.
You cannot create an external team for personal tasks.
You cannot create global tags for personal tasks. The tag for personal tasks is only visible in My Tasks.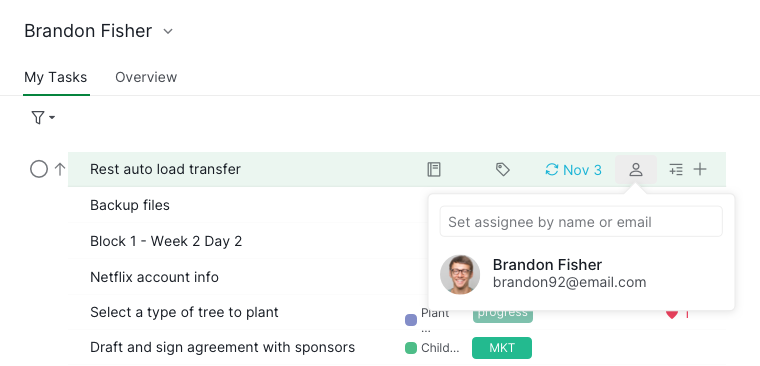 What can I do with My Tasks?
Use the shortcut = to launch and close My Tasks.
Use the shortcut m to add a task directly to My Tasks.
If a task was completed 30 days ago, it will not be shown in My Tasks.
Transfer personal tasks from My Tasks to other projects by clicking on the project icon or by cutting and pasting the tasks.

Permission
You can view other members' My Tasks list if you have access to the projects that those tasks belong to. You cannot view others' personal tasks.
You cannot reorder other members' My Tasks list.
Read more on our blog about what you can do with My Tasks.