Customer Relationship Pipeline Template
With this project setup, you will be able to use Quire to manage all of your customer information in one place for your business.
You can visit this Customer Relationship Pipeline project and transfer a copy of the tasks to your Quire project so you don't have to create the tasks all over again on your own.
Set up for customer relationship pipeline
Quire main List
The List tab in your project can be set up as the main list for all of the customers that you have reached out for your business. Create a task as the contact information of each customer that you have.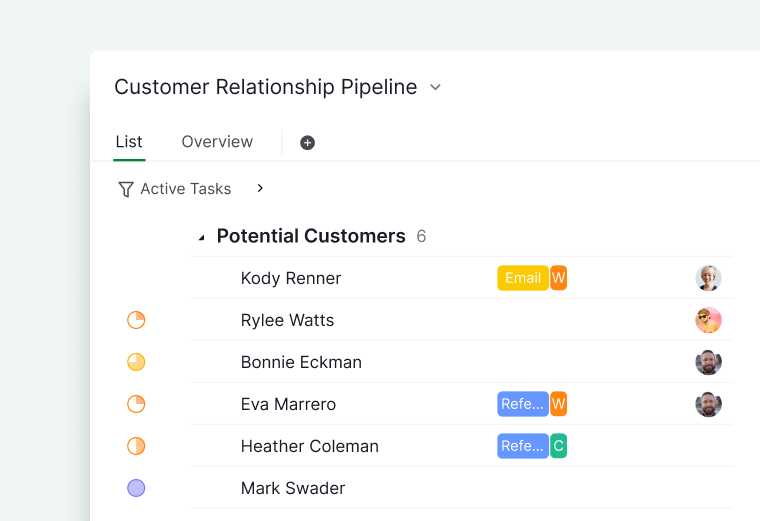 Quire Sublist
By adding a sublist, you can select all of the relevant customers to a common business goal and create a selective and focused list. Name this Sublist as Pipeline and set it to view as a board view. This way you can visually track the statuses of each customer.

You can create a status column for each of the steps in this pipeline.
Here are some examples of the columns:
Incoming
Leads
Contacted
Meeting scheduled
Proposal delivered
Follow up
Closed
Lost

Task's description
For each customer (task), you can put the customer information in the detail panel.
Here are some popular information that you can add:
Customer's details (Email, phone number, addresses, company name)
Customer's reply
Meeting preparation checklist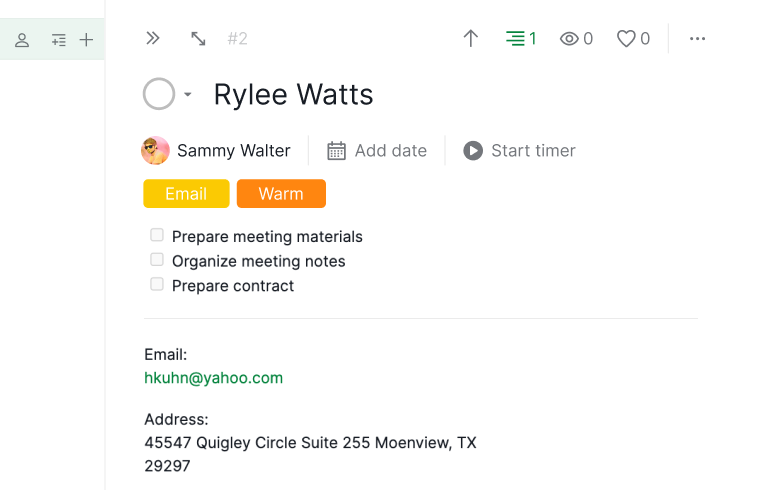 Other features and integrations
Tags
You can categorize your customers by adding new tags.
Some popular segmentations for customers:
Lead temperature (Cold, Warm, Hot): This can help you see who is close to being a customer.
Source (Email, Referral, Support Message): This can help you determine which channels are more effective than others.
Company size (1-10, 10-50, 50-100, etc): This can help you tailor your messages for small or large businesses.
Filter
Use the filter bar to create a more customized and manageable group of your customers.
Email to Quire
You can send emails from your customers to Quire so they become tasks in the project automatically. This can help you streamline the process of collecting information from your emails.