You can add a description, notes, or any relevant details to a task in the detail panel.
Open the detail panel
To open/close the detail panel of a task, simply press the Spacebar or click on the detail panel bar at the right hand side. Also, to pin or unpin the detail panel, click on the pin icon.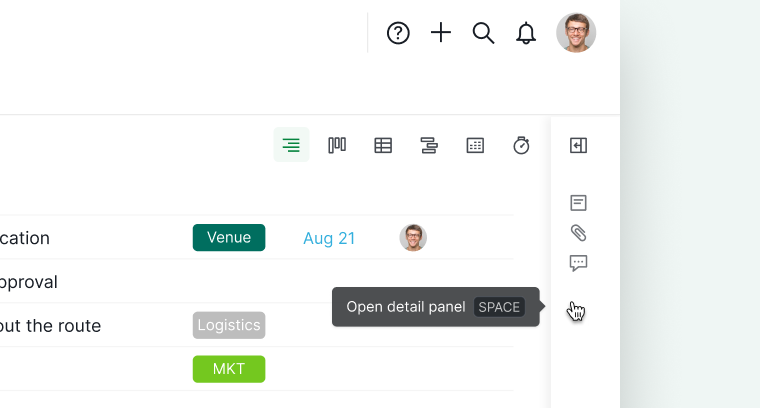 To preview what you have just typed, hit Ctrl + E (or ⌘ + E for Mac).
Full width mode
To quickly expand and collapse the detail panel, hit Shift + Spacebar.
You can then click the expand icon to enter full width mode to see more texts in one view.
Style your text
The description area also supports markdown to give more style to your text. Click on the markdown icon to get a simple cheat sheet of markdown.
Learn more on how to style your text in Quire.
Add emojis to make your description stand out. Type in : to get emoji cheat sheet or you can copy and paste an emoji from websites like getemoji.com.
Tip: You can hit D to write or edit the description of the selected task. A quick way to see whether the tasks have descriptions or not without opening the detail panel is to hit I (or Option for Mac) for toggling on the Advanced mode.