We have listed out some of the things you might want to know about our subscription plans, what you are paying for and how to pay for them.
The basics
Every organization is billed separately. You will be charged based on how many members you have in each organization. Even if you have the same members in different organizations, you will be charged for them in each organization. In this case, you may want to refer to our Master Organization feature.
Only Organization Admins and Billing Managers can manage billing.
We will bill each organization upfront. You will be charged at the beginning of each subscription plan. If you make any changes during your subscription plan, the amount that you have already paid will be prorated accordingly and be counted as credits to your account.
Note: The credits will automatically be applied the next time you upgrade or change your subscription plan. It will not be applied automatically in the next billing cycle.
The subscription plan will automatically renew when the plan is due (either monthly or yearly). You will need to manually cancel the subscription if you decide not to continue using Quire anymore. After canceling your subscription, all of the content and data in this organization will be in read-only mode. You can upgrade any time to continue where you left off.
Current subscription plan details
Navigate to a Quire organization first, then click on the drop-down menu arrow next to the Organization name at the top, then select Manage subscription.
Note: If you are not the Admin of the Organization then you will see View Subscription.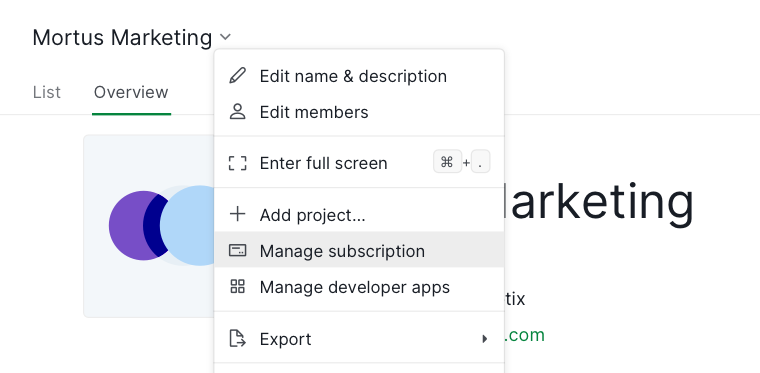 If you want to see all the subscriptions associated with your account, you can click on your profile picture in the upper right corner and then select My Subscriptions.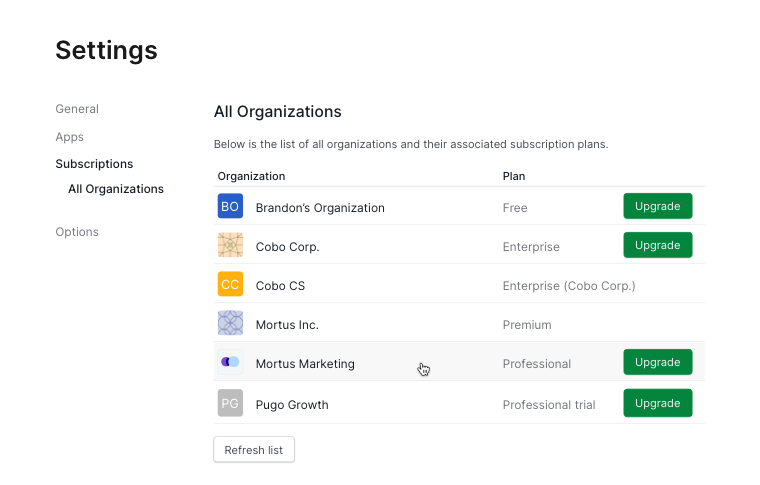 On the Organization subscription page, you can see the current plan name that the organization is subscribed to and the member, project, and storage limitation that the organization has already used.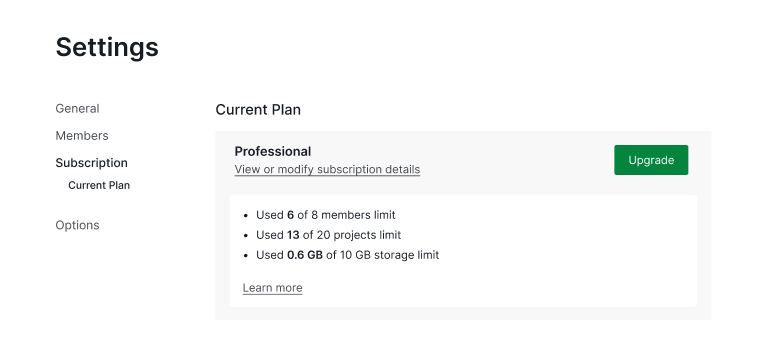 Click on View billing details to see more information such as how much you are paying for this organization either monthly or yearly, the billing history, and the billing contact. Also, you will see the date of when you will be charged for the next payment.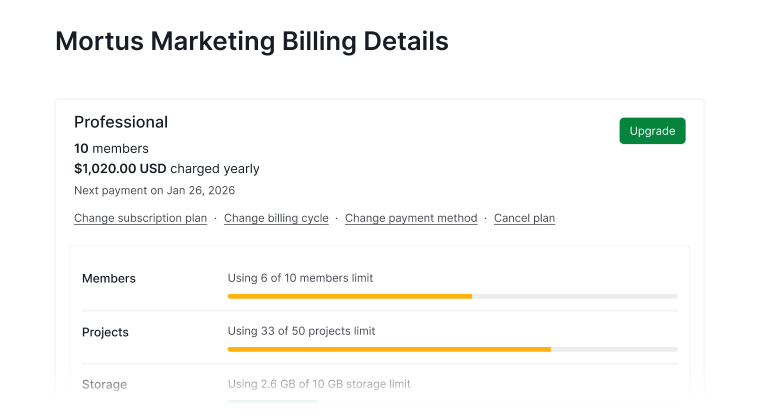 You will be charged on the same date each month or year you paid for the subscription plan. For example, you bought the subscription plan on July 23rd, so for a monthly subscription, the next payment date will be August 23rd, September 23rd, and so forth.
Note: For your subscription, you will be charged per member and charged separately for each organization. If you have 2 organizations with 5 members each, even if the same members belong to 2 different organizations, you will be billed for 10 members in total. In this case, you can take advantage of our Master Organization feature.
Add billing managers
Billing managers will have access to the billing details of this organization. Organization Admins can add members that are not part of the organization as the billing managers.
Navigate to the Billing Details page for the organization, scroll down to the Billing Managers section and click Add billing managers.

If you are the Billing Managers, all the subscriptions will be listed out on the My Subscriptions page by clicking on your profile icon in the upper right corner.

---
FAQ
Does Quire offer discounts for students or NPOs?

Yes, we do! If you are a student, we hope to help you finish your project planning throughout your academic years for free. Apply for the discount program here. If you are eligible for NPO organizations, apply for a 50% off discount here.

Can I use Quire for free forever with no strings attached?

Absolutely! Don't worry about the pricing if you're just a solo flier or you just collaborate within a small group of members! Quire can be completely free to use! The Free plan does have some limitations, however you can upgrade your subscription plan anytime you want!

Do Quire offer refunds?

No. We don't offer refunds. After canceling the subscription plan, you can continue using Quire until the end of your then-current billing period.